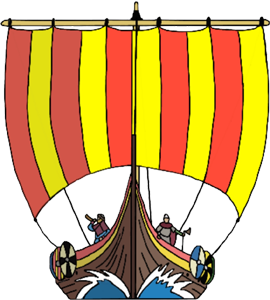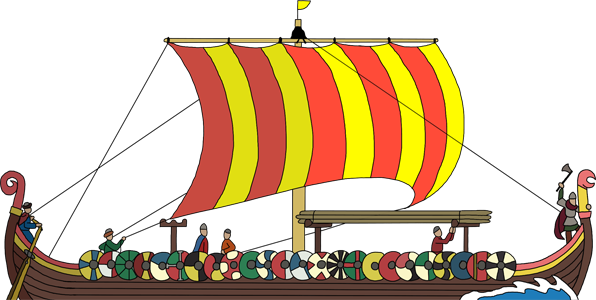 My Viking Calendar 2023-24
Spend a year in the far north with Olaf the Beardless and meet a new Viking each month.
Our limited edition calendar begins on the 27th December 2023 and can be
purchased here
Reviews
We value our clients' feedback and regularly use this information to further adapt and improve our school visits and workshops. Check out some of the positive feedback we have already received or leave your own comments below.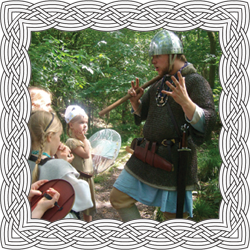 Bewdley Primary School, Bewdley
Thank you for an amazing day! Everybody immersed themselves in Viking life with Olaf and he set up our topic wonderfully. The children (and adults alike!) were captivated by the fireside saga, Viking objects and Old Norse language - you could have heard a pin drop! The Vikings vs Anglo Saxons battle was a thrill to watch and the children came away from it having had fun but also having learned a great deal. Ben happily adhered to our school's COVID-19 policy and took every precaution with his equipment throughout the day. You can be rest assured that you are in safe hands with Viking School Days.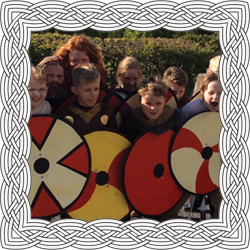 Grove Road Community Primary School, Harrogate
Ben was fantastic! We were really looking forward to an exciting, fact filled Zoom session and he exceeded all of our expectations. He was extremely entertaining, knowledgeable, well prepared and the kids (and staff) loved every minute of the three sessions we had booked. Ben was professional throughout and his sessions worked as perfectly via Zoom as if he had been with us in school. The sequences of the sessions booked were perfect too: lots of technical information shared, interspersed with gory and funny sagas like the creation story and Ragnarok with lots of interaction with the classes. Ben's charisma and humour were real selling points and he had all of the children and staff laughing throughout. We will definitely be booking him again, thank you!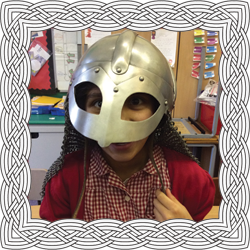 Oakhurst Community Primary School, Swindon
Ben's Viking Visit was without a doubt the best value-for-money purchase we've made in years. The ultimate professional, Ben arrived on time, and from start to finish devoted the whole day (including lunch-time) to the children. Informative, dynamic and with outstanding behaviour management, Olaf the Viking maintained 100% engagement for the entire day. He brought artefacts, digital slides that tied in with his delivery, and the day ended with the most memorable story-telling session in front of a (moving) digital fire. Very cleverly, he rewarded good behaviour with the gift of artefacts to wear for the day, and tied these in with school awards. Truly outstanding in every way, and we shall definitely book him again.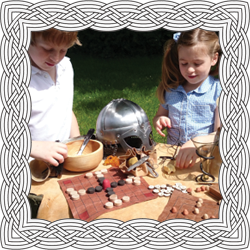 Sydenham Primary School, Leamington Spa
Absolutely fantastic experience! The children (and the staff) thoroughly enjoyed the day and we were sad it had to end! Ben was excellent. He established a great rapport with the children and managed behaviour effortlessly whilst still delivering a fun, engaging and interactive session. His delivery of the information was enthusiastic and clear and allowed all children to handle artefacts and learn loads of interesting facts about the Vikings. All the children were engaged throughout and had a great laugh too! Ben provided loads of opportunities for them to ask questions and was supportive and patient with the children. I would definitely recommend Ben (Olaf the Viking) as his passion for the topic is infectious and it was a pleasure to have him in school Thank you very much - we look forward to the next time!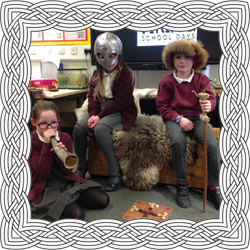 Rice Lane Primary School, Liverpool
Where do we start?! The year 5 children had an absolutely fantastic day with 'Oswald'- the Anglo- Saxon. The children were engaged from the get-go. They had huge smiles on their faces throughout and didn't realise that they were learning because they were having so much fun! Ben was great with the children- assertive and entertaining; he really got into the role of his character. Both the children and the adults were laughing away! The battle was great fun and it's a day that I'm sure the children will always remember. Thank you for such a memorable day, Ben! From all of the year 5 staff at Rice Lane Primary.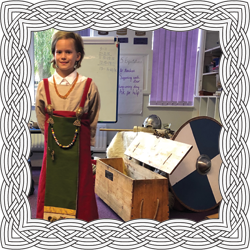 Oxford Grove Primary School, Bolton
Amazing experience, which the children loved from start to finish. The workshop was delivered with in- depth knowledge, passion and good humour. The battle which the children took part in at the end of the session was an experience I know they will not forgot in a hurry. Olaf even took time to sit with the children during lunchtime, a personal touch which the children really enjoyed. Ben's ability to build relationships with the children in such a short space of time, was one of the highlights. We have had many of these types of workshops in school before but this was a cut above the rest and I cannot recommend the experience highly enough. On behalf of Year 5, thanks Ben, for inspiring the Year 5 teachers as well as the pupils!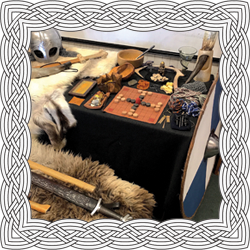 Chigwell Row Infant School, Essex
Thank you so much for the amazing Viking Day! The children were engaged and excited from the minute it started to the very end! Ben was brilliant with the children and was also friendly and personable with the staff; we were sad to say goodbye! We all thoroughly enjoyed learning about Viking life from Ben's fountain of knowledge. The activities were informative, hands on and consolidated some learning while also teaching the children many new things. Ben was also great at tailoring his session for KS1 and EYFS. We would recommend this fantastic experience to anyone learning about Vikings.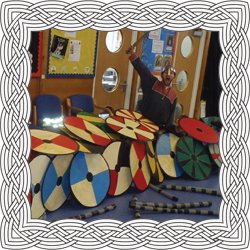 Southey Green Primary School, Sheffield
The Anglo-Saxon day was enjoyed by everyone in Year 4 at Southey Green. Ben was truly amazing in character as Oswald. He provided an extremely engaging session, coupled with excellent subject knowledge. The children loved it and learnt a lot, especially through being able to interact with the artefacts. The battle was superb and the children came away with a comprehensive understanding of the tactics used during the Anglo-Saxon period, which were gained in an immersive but safe way. Ben also covered the morality of war, which was appreciated by all.
Get in touch
If you would like to discuss the
possibilities of a visit further
and check
our availability, please feel free to
contact us
Send us your feedback